Description
What It Is
A soothing sunscreen lotion for all skin types.What It Does
Infused with a rich blend of carrot oil, lodhra bark, quince seed, and aloe vera, this sunscreen lotion keeps skin soft, fair, and moisturized in the sun. It provides broad spectrum UVA/UVB protection and helps prevent tan, sun burn, sun spots, premature ageing, and skin cancer.
Constant exposure to the sun can make your skin prone to tanning and a lot of other health risks. Give your skin optimum protection from the sun using this Biotique Carrot Sunscreen Lotion. Natural ingredients, such as Vitamin-rich Carrot and Ayurvedic Lodhra, help keep your skin protected.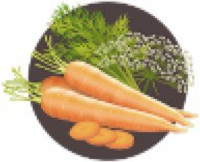 Vitamin-rich Carrot
Carotene is a chemical that converts to Vitamin A and possesses antiseptic properties. Carrots are carotene-rich, thus equipping it with healing properties that work to keep your skin purified and protected.
Ayurvedic Lodhra
Lodhra is an ancient ayurvedic skin care ingredient that nourishes the skin. It is also quite effective in preventing acne and wrinkles.
For Men & Women
Suitable For All Skin Types
Lotion Form
PA+
Paraben Free